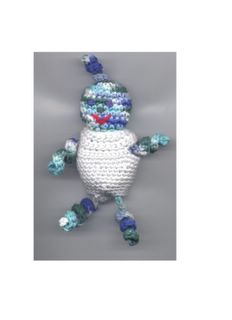 Granny's Curly Toy (Doll)
Worsted Weight Yarn
F Hook
Top Knot: ch 4, 2 sc in each ch
Arms: Ch 10, 2 sc in each ch
Legs: ch 15, 3 sc in each ch
Rnd 1: ch 2, 6 sc in 2nd ch from hook
Rnd 2: 2 sc inc in each st, (12 st) Rnd 3: sc in 1st st, 2 sc inc in next st, around (18 st)
Rnd 4: sc in first 2 st, 2 sc inc in next st, around (24 st)
Rnd 5-8: work 4 rounds even. At this point I tie the top knot on.
Rnd 9: sc in first ch, sc dec next 2 sts tog, continue around, (18 st) At this point I add eyes, nose and mouth if I'm going to go with simple Straight stitches and contrasting worsted yarn.
Rnd 10: sc dec 2 st tog around (12 st)
Rnd 11-12: sc in each st (12 st)
Rnd 13: 2 sc inc in each st (24 st)
Rnd 14-19: sc in each st I now tie arms on at the sides of rnd 13 and 14
Rnd 20: sc in first st, dec in next 2 st (sc 2 tog), around (15 st)
Rnd 21: even (15 st)
Tie legs at sides between rnds 20 and 21 Stuff, then crochet 2 tog (dec) rnd until 6 sts remain. End off.
Thread yarn Through st and pull tight. I have made these to put in a cradle purse using "doll colors" and used wild colors For little boys. The kids love them. If you make them for babies I recommend cotton yarn because acrylic sometimes causes a rash when baby chews on it.
RETURN TO TOP